ARTIST FIRS SERGEEVICH ZHURAVLEV
---
ACADEMIC REALISM
firs Sergeyevich Zhuravlev he was born in Saratov on 10 December 1836 in a family of commoners. His father was a tailor. The parents wanted the son continued the father"s business and up to 19-ти years, the future artist studied the tailor"s craft.
In 1855, Zhuravlev went to Petersburg to enter the Academy of Arts.
while studying at the Imperial Academy of arts was repeatedly awarded with medals" За success рисовании":
1861 Zhuravlev is on the academic exhibition of paintings" Умирающий father". One of the plots, popular in the early 1860-х years, was devoted to the poor and unsettled life of a creative person — artist, musician, poet.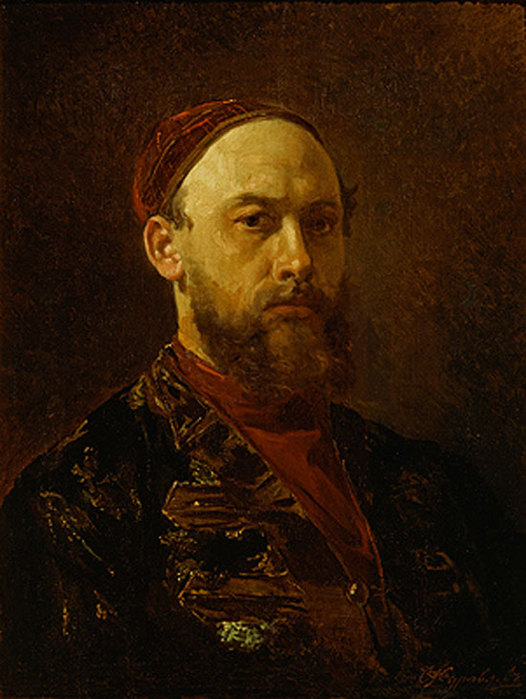 self PORTRAIT
Zhuravlev is one of the first turned to this subject, which had its development throughout the second half of the 19th century.
1858 and 1860 — small silver, in 1860 and 1862 — large silver. In 1862 he was awarded a small gold medal for the painting" Кредитор describes property вдовы".
In 1863, refused to participate in the competition for a gold medal of the Imperial Academy of arts ("Бунт fourteen"), by filing a petition for withdrawal from the Academy and received the title of class artist of 2-й degree.
1860—1870-е years the artist has exhibited his work at academic fairs, exhibitions society for the Encouragement of Arts. As before, he remained faithful to genre and the subject chosen" униженных and оскорбленных".
artisanal period Zhuravlev was a picture" Дети-нищие", which brought new accents in widely developed in the painting of this time a child theme.
Most famous painting Zhuravleva was the picture" Перед crown", for which he received the title of academician and the first prize" po of painting folk scenes" from the Society for the Encouragement of Arts. The picture literally made a splash: on her critics raved, the audience for a long time discussed the picture. It was a huge success. Later, the artist had to perform a few repetitions of this painting.
the boyar"s daughter
the Artist created many paintings. He also wrote portraits of writers and artists. Finally, F. S. Zhuravlev took an active part (1870—1883) in painting the Cathedral of Christ the Savior in Moscow.
Zhuravlev died 1901. His wife donated Saratov art Museum im. A. N. Radishchev several works by the artist.
Source: http://www.bibliotekar.EN/
the Return from the ball
the Resurrection of Jairus"s daughter
Bachelorette party in the bath
Girl with chickens
the Children of the poor
Female portrait
...
the Sorceress
Creditor describes the property of a widow
the Merchant"s Wake
Cook
Stepmom
Naked woman
Guess who came
Easter treats
Before the crown
Before the crown
After the wedding
Spinner
Family scene
the Cathedral of our Savior on spilled Blood
chimney Sweep
the Official
Link to original
Комментарии