Warm Green Joy! Artist - illustrator Anna Petrova - Pastelanna
---
green comes time
Green - green!
Wonderful and so easy ...
When you do not have to wait - everything comes naturally
Warm Green Joy!
< p style = "text-align: center;">
I wish you all the wonderful Summer!
Leia and her amazing flowers
Fox head out for a walk or garden < /span>
The magic of green and hat
< span style = "font-family: tahoma, geneva, sans-serif;"> Lady Duck meets summer
Gusenechka
joy of flying! Young green happiness!
Ulenka collects special marijuana.
She needs to weave a sweet pad.
Such that the smell of wild rosemary and mossy bogs went from door to the farthest corners of her green house.
The quiet olive-colored grasses. Green spirit of summer.
piece of mind. .. Half Butterfly ... A little warm winds ...
can hear the flowers nod their heads ... My Summer song
warm breeze
Fresh, light, fragrant, clean, new Summer Wind!
Blue, Turquoise, Lavender, Lilac!
Zainkiny tulips
little dreidel and Spring
Lisaveta ​​span>
Happy journey into a child's dream
Summer wreath. Wreath - vasilechek
Summer Grozonka! We welcome you with a rainbow!
Perfume raspberry in a basket and a bunch of joys!
Merry Iyulka would lead to a fabulous old world, will show where the forest hidden away miracles!
greens and Summer

Lovers Herbal residents on a walk on the morning ROSAM, blue mist ...
Letechko gold < /span>
Wind Spicy, aromatic and lively, sweet tickling your nose ...
White petals, light, playful, catch the rays of the sun!
Whisper fragrant grass blades, remember summer song ...
Fabulous Happy Summer - a pile of hay ...
Spicy wind. Honey grass
< span style = "font-size: 14px;"> Poskakushka - Ashling
Is there light at the place where you can get everything at once thirty three fun?
Why, of course there is - the path of Joy, straight to the Forest of Wonders,
him happy meadow, there will find me, I'll tell you where to continue ...
33 fun
< /span>
masenkaya on a cloud surrounded by flying poppies meets Summer
Pig always wanted to find my cloud!
He was walking in the rain, in the mist-filled ravines < br /> in the gloomy wet copses, where there is always a small roost otarki celestial sheep ...
And here it was found - a small, not like the others,
not yet fully matured, but for sure - YOUR!
What to do now is to talk to your dream?
Bunch joys
Kitty dancing like a butterfly
Motylechek < /p>
mood which - feyskoe < /p>
That's who hangs on the branches of magic kettles
for weary travelers!
My soul, my bird
< span style = "font-family: tahoma, geneva, sans-serif;"> Boat
magic lamp. Journey to the Sea
Almost mermaid
< span style = "font-size: 16px;"> For those who are always with the soul of the Sea ...
< /a>
crescent
Night Walk
< p style = "text-align: center;">
Girl - Shell ...
From the Sea in the heart of ...
With the dream of Sea ... for all those who love the sea.
Nautilus sees beyond time and space ...
His eyes - the heart and the call of the sea.

Wave Spray, Wind, sun, sea!!!
Skipping, vpriskochku, fun - space for frisky Waves - Horses!!!
Running, jumping, rush - to coast ... to stop,
drink at surf - and back, way back - to the other side!

mermaid lighthouse that beyond a beacon on a distant spit?
Under the smooth surface of the sea, when descending twilight Quiet ...
splash hardly disturb the lighthouse ...
But it certainly will hear sensitive heart who wears Sea Inside.
Mermaid song
True Alfonso and finds on the beach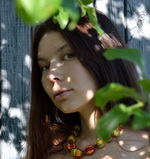 artist - illustrator Anna Petrova - Pastelanna , Bryansk.
"I paint my world ...
I love living textured paper ... I like to listen to her, she tells us about himself, reveals his secrets for finding a new images! Draw can be called an attempt to revive the paper, each page of which is unique, each of them - a story ...
I like to draw for kids, young children with their little world, and the warm atmosphere of faith in the miracle of all Anna performs in author's technique on handmade paper - Aphina-art boom n manu boots
< span style = "font-size: 16px;"> Skomoroshinku and winter white thread can be seen - here.
A Tale for romantics look at this page
Music: Yuri Gomberg - jazz for children
Link to original
Comments